Joi, 2 septembrie 2010, în Iron City a avut loc concertul trupei Mevorah. Cine sunt Mevorah? Sau ce vor să fie? O trupă de rock underground, foarte modestă, dar care ştie să întreţină publicul. Aglomeraţie mare nu a fost. Cred că în jur de 20 de oameni care s-au simţit bine ascultând melodii proprii ale trupei dar şi un cover al piesei de la Queen "The show must go on" pe care trupa "şi-a pus amprenta" (aşa cum solistul a declarat).
Până aici nimic neobişnuit. O trupă underground cu 10 melodii pe care le cântă din plăcere.
Dar dacă vă spun că solistul este profesor de muzică? Se schimbă drastic lucrurile. În fine, detalii… Pentru că în public se aflau şi foşti elevi, "domn' profesor" a decis să deschidă concertul cu o compoziţie proprie, foarte iubită de elevi, intitulată "You and me" – melodie pe care toată lumea, dar absolut toată lumea, a cântat. Şi au urmat multe alte astfel de momente în care basistul a trecut de la chitară bass la "zdrăngănitoare" (ca să îl citez pe domn' profesor) şi la tot felul de alte instrumente de percuţie. Momente când membrii trupei au improvizat practic pe o melodie, pentru că nu au exersat-o destul. And so on. Pe scurt, oamenii s-au simţit bine. Au fost ei înşişi.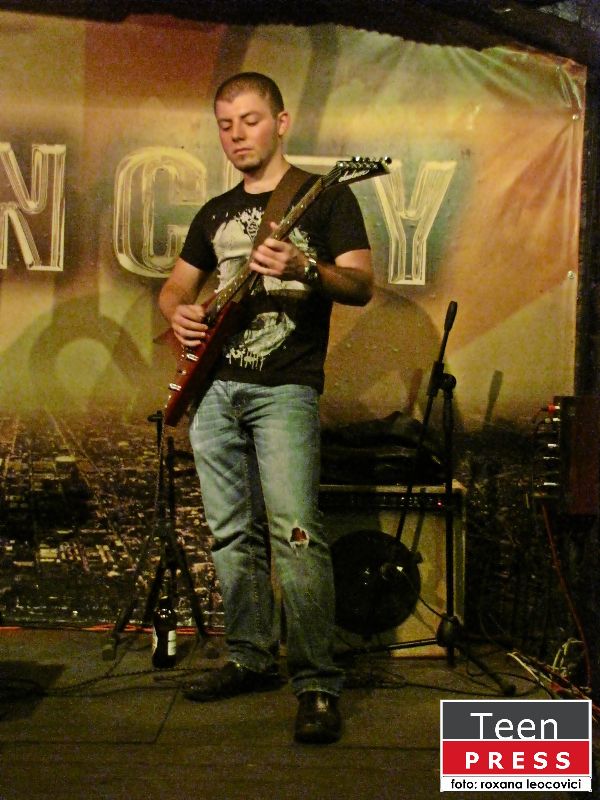 Nu ne întrebaţi de ce trupa se numeşte Mevorah. Nici ei nu au vrut să ne spună :-). Ca să îl citez din nou pe solist (am început să îl ador pe omu' ăsta): "Căutaţi pe Google!". Pe viitor încercăm să vă aducem şi un interviu cu ei.
Ce să vă mai zic? Nu mai am ce. Nu mai am glas/cuvinte. Superb, extraordinar. Invitaţii s-au simţit bine – am fost ca o mică familie pot spune -, locul este super primitor şi profu' e un om care ştie să întreţină atmosfera :-).
Keep up the good work profu' and rock on!