Dacă traversăm parcul Kiseleff și mergem pe strada Ion Mincu, imediat vedem o clădire veche și gri, pe partea stângă. Intrăm în curte și ne întâmpină o plăcuță care ne spune unde suntem: la Colegiul Național de Informatică "Tudor Vianu".

Elevii intră prin spate, ajungând în holul principal. Acesta este surprinzător de mare și de luminos, în comparație cu scările înguste care duc până acolo. Aici sunt expuse postere cu diverse evenimente la care participă liceul, liste cu olimpiade și afișele cunoscutului concurs internațional organizat și găzduit de vianiști: Master of Mathematics, respectiv Master of Physics.
Tot din holul principal se poate ajunge pe celelalte culoare ale clădirii (destul de multe și încâlcite), unde se află clasele, cele șase laboratoare de informatică și T.I.C., două laboratoare de fizică și mai multe săli cu diverse funcții: chimie, română, istorie, geografie, biologie. Liceul are două etaje, plus demisol și parter. La demisol se află și bufetul, alături de alte laboratoare. Urcăm deasupra holului principal, unde găsim expoziții de fotografie ale vianiștilor, cancelaria și poze de la jocurile de șah uman organizate de elevi.
După cum probabil v-ați dat seama deja, liceul are profil mate-info, intensiv informatică. Este adevărat și că acest liceu se mândrește cu cei mulți olimpici la materiile de real. Am stat puțin de vorbă cu domnul profesor de informatică Victor Manz, care ne-a dat câteva cifre în ceea ce privește olimpiadele naționale și internaționale: 40 de calificări, 36 de medalii și opt mențiuni. Enough said, cum s-ar zice!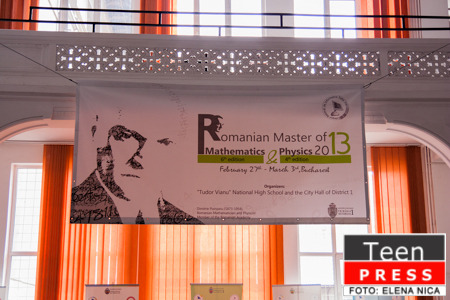 Liceul se află în colaborare cu NASA, prin intermediul unora dintre profesorii foarte bine pregătiți. La concursul "NASA Settlement Design Contest", vianiștii au fost mereu în vârful clasamentului. Cu un an în urmă, o boboacă a luat chiar Grand Prize-ul în valoare de 5000 $, prezentându-și proiectul în cadrul unei conferințe, în SUA. De asemenea, alți elevi de la clasele mai mari au obținut și ei locurile întâi, doi și trei.
Deși cunoscuți drept matematicieni, obsedați de chimie și oameni care mănâncă fizică la micul dejun, prânz și cină, elevii din Vianu au și alte preocupări (ba chiar am aflat că sunt clienți fideli la shaormeria din apropiere, în apărarea lor). Drept urmare, CNITV are echipă de baschet, trupă de teatru, campionat de fotbal între elevi și profesori. Colegiul dispune și de o bibliotecă, din păcate închisă temporar.

Ieșim în curte și observăm instant unde este mijlocul acțiunii: în jurul celor patru mese de ping-pong și coșurilor de baschet. Nici pe terenul de fotbal din spate nu este liniște, elevii de la V-VIII făcând gălăgie și alergând în toate părțile. Tot în curte se află sala de sport și o sală de festivități veche, ai cărei pereți sunt plini cu graffiti. Aceasta urmează a fi dărâmată și transformată în alt corp al clădirii.
S-a sunat, elevii ies sau intră în clase, iar noi ne îndreptăm spre ieșire. Am reușit să luăm o parte din spiritul vianist cu noi: seriozitate, creativitate, inteligență și distracție. Cam așa se poate defini Colegiul Național de Informatică "Tudor Vianu".